2CJM - chain A | Cyclin-dependent kinase 2
Structure information
PDB:
2CJM
PubMed:
17095507
Release date:
2006-04-24
Resolution:
2.3 Å
Kinase:
CDK2
Family:
CDK
Group:
CMGC
Species:
HUMAN
Quality Score:
8
Missing Residues:
0
Missing Atoms:
0
| | |
| --- | --- |
| DFG conformation: | in |
| αC-helix conformation: | in |
| Salt bridge KIII.17 and EαC.24: | Yes (3Å) |
| | |
| | |
| ASP rotation (xDFG.81) : | 352° |
| PHE rotation (xDFG.82) : | 18° |
| Activation loop position: | -3.4Å |
| αC-helix position: | 17.2Å |
| | |
| G-rich loop angle: | 60.4° |
| G-rich loop distance: | 18Å |
| G-rich loop rotation: | 69.1° |
Other models from this PDB:
2D & 3D views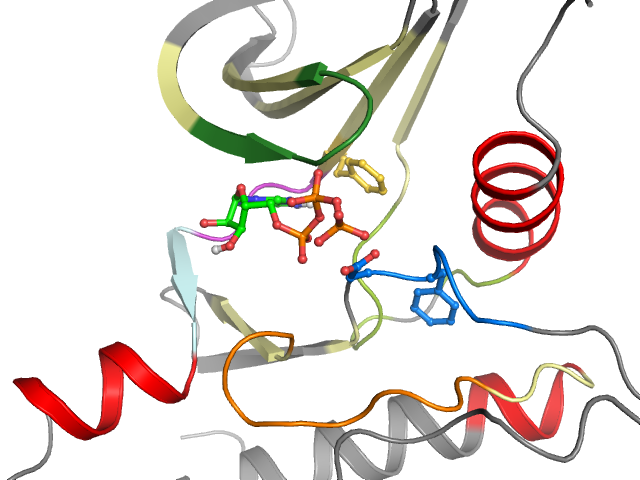 Binding pocket waters
The following waters were found in the defined clusters:
Binding pocket sequence
| | |
| --- | --- |
| Uniprot | EKIGEGTYGVVYKVALKKITAIREISLLKELNPNIVKLLDVYLVFEFLH-QDLKKFMDAFCHSHRVLHRDLKPQNLLILADFGLA |
| Structure: | EKIGEGTYGVVYKVALKKITAIREISLLKELNPNIVKLLDVYLVFEFLH_QDLKKFMDAFCHSHRVLHRDLKPQNLLILADFGLA |
Modified residues
Residue 15 (g.l.8)
Phosphorylated tyrosine
Residue 160 (not in pocket)
Phosphorylated threonine
Orthosteric ligand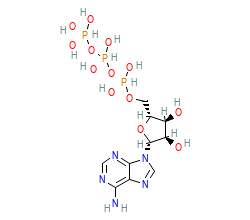 Ligand HET-code:
ATP
Ligand Name:
ADENOSINE-5'-TRIPHOSPHATE
Download image
LABELS
KLIFS residue #
Amino Acid
None
COLORS
Interaction types
KLIFS (all res.)
KLIFS (interacting res.)
None
OTHER
Show/hide non-interacting res.
En/disable resizing interacting res.
This ligand targets the following (sub)pockets:
Main pockets
Front

Gate

Back
Subpockets
FP-I

FP-II

BP-I-A

BP-I-B

BP-II-in

BP-II-A-in

BP-II-B-in

BP-II-out

BP-II-B

BP-III

BP-IV

BP-V
Kinase-ligand interactions
■
Hydrophobic
♦
Aromatic face-to-face
♦
Aromatic face-to-edge
▲
H-bond donor
▲
H-bond acceptor
●
Ionic positive
●
Ionic negative
I
g.l
II
III
αC
1

E




8

2

K




9

3

I




10

4

G




11

5

E




12

6

G




13

7

T




14

8

Y




15

9

G




16

10

V




17

11

V




18

12

Y




19

13

K




20

14

V




30

15

A




31

16

L




32

17

K




33

18

K




34

19

I




35

20

T




47

■

■

▲

■

■

▲

●

αC
b.l
IV
21

A




48

22

I




49

23

R




50

24

E




51

25

I




52

26

S




53

27

L




54

28

L




55

29

K




56

30

E




57

31

L




58

32

N




59

33

P




61

34

N




62

35

I




63

36

V




64

37

K




65

38

L




66

39

L




67

40

D




68

IV
V
GK
hinge
linker
αD
αE
41

V




69

42

Y




77

43

L




78

44

V




79

45

F




80

46

E




81

47

F




82

48

L




83

49

H




84

50

_




_

51

Q




85

52

D




86

53

L




87

54

K




88

55

K




89

56

F




90

57

M




91

58

D




92

59

A




93

60

F




117

▲

■

♦

■

▲

αE
VI
c.l
VII
VIII
x
61

C




118

62

H




119

63

S




120

64

H




121

65

R




122

66

V




123

67

L




124

68

H




125

69

R




126

70

D




127

71

L




128

72

K




129

73

P




130

74

Q




131

75

N




132

76

L




133

77

L




134

78

I




135

79

L




143

80

A




144

■

DFG
a.l
81

D




145

82

F




146

83

G




147

84

L




148

85

A




149

▲
Interaction pattern search
Search KLIFS for kinase-ligand complexes with similar interaction patterns:
Binding affinities
ChEMBL ID:
CHEMBL14249
Bioaffinities: 8 records for 3 kinase(s)
| Species | Kinase (ChEMBL naming) | Median | Min | Max | Type | Records |
| --- | --- | --- | --- | --- | --- | --- |
| Homo sapiens | MAP kinase-activated protein kinase 2 | 5.2 | 4.9 | 5.6 | pIC50 | 3 |
| Homo sapiens | Mitogen-activated protein kinase kinase kinase 7 | 5.6 | 5.6 | 5.6 | pKd | 1 |
| Homo sapiens | Tyrosine-protein kinase JAK2 | 5.9 | 5.9 | 5.9 | pKd | 4 |